Discover the game of Mahjong
Have you ever considered playing Mahjong? It's a game of skill and determination, traditionally played with tiles that look like extra-thick dominoes.
The best thing about the game? According to the group who play it weekly at Perron Place, it's social, keeps the mind sharp and can be addictive. Once you've played it once, you'll want to play it again.
Mahjong originates in China thousands of years ago. The latest research shows it can slow cognitive decline and reduce the risk of dementia. To be successful in the game, you need a good dose of luck and strategy.
Social and fun
The Mahjong club at Perron Place adopts Westernised rules and players meet every Tuesday morning. Claire, one of the organisers, explains how she became involved.
"I decided to join a Mahjong group to increase my friendship circle. I was playing at another group locally and we saw this advertised, so we came to Perron Place."
Claire is in her early thirties and is the youngest of the Mahjong players. She brings energy and vitality to the group, taking any new players under her wing.
"Everyone here enjoys it for the social aspect. We are not overly competitive, people are still learning about the game. We don't judge or criticise anyone."
One such new player is Fleur. She came to the group four months ago and had no experience with Mahjong. Despite being a novice, she claims to be now comfortable with the game.
"The basics are easy to understand. It's important to learn the tiles, the suits and then move on to the games," Fleur explains.
Claire is keen to emphasise that the group is open to everyone – whatever their skill level. Beginners learn at their own pace.
The buzz and adrenalin of Mahjong
The group runs for two hours and players fit in several games. Lucy says she enjoys it because it stimulates the brain.
"You definitely have to focus your mind with this game, but it's all about luck when you pick up the tiles. When Mahjong goes your way, it creates such excitement – you get an endorphin rush."
For Kerry, playing Mahjong at Peron Place brings back some fond memories of when she used to work as a Braille Production Officer at VisAbility for 21 years.
"Many years ago, a friend who travelled a lot bought my husband and me a beautiful Mahjong set from china. The children used to play Mahjong Solitaire – a simple one-person pairing game. When I learned about the group, it was the prompt I needed to learn how to play."
The majority of the group plays for pleasure, but Lin admits to having a competitive streak.
"I like to be challenged. I am a nurse working long hours. When I am playing Mahjong, it's much-needed downtime, but I am still quite competitive. I am Chinese, so it's lovely to play something that is part of my heritage."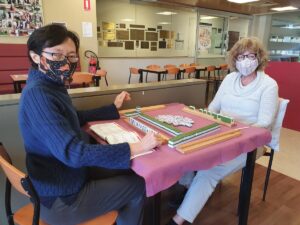 Basic rules of the game
Mahjong consists of 144 tiles
There are three main suits : circles, bamboo and Chinese characters
You pick up four suits of honour tiles: wind, dragon, flowers and seasons
Players pick up and discard tiles because the aim is to collect 'sets' of identical tiles or a run of tiles with the same suit.
Want to join the Mahjong group? Come along Tuesday at 0900 and get playing. We have the board, tiles and enthusiastic players, so just bring yourself. Interested to learn more about other activities on offer at Perron Place?  Take a look at what's available throughout the year.
Posted in News